Let's be honest here! Moving is no joke. It requires focus, dedication, lots of effort and patience. From the moment you decide to move or sell your home, to the moment you are unpacking in your new home, you have the bull by the horns that requires great strength to take it where you want to go. That is where we come in with this book. We aim to be the over seeing eye, the shining light that takes you all the way home. From our experiences to our accumulated knowledge and insights, we seek to guide you from the moment you decide to move or sell your home to your new pad, like friends who have been there and one that. Delve into these pages with a light heart, an open mind, and may it be the life boat in this ocean of stress you are about to sail into. May we suggest you pour yourself a glass of wine, or your favourite coffee, and perhaps some chocolate and strawberries to indulge yourself in, to set the mood for a joy filled and entertaining experience.


Raul & Dawn
To Order Your Kindle Copy - Click On This Link!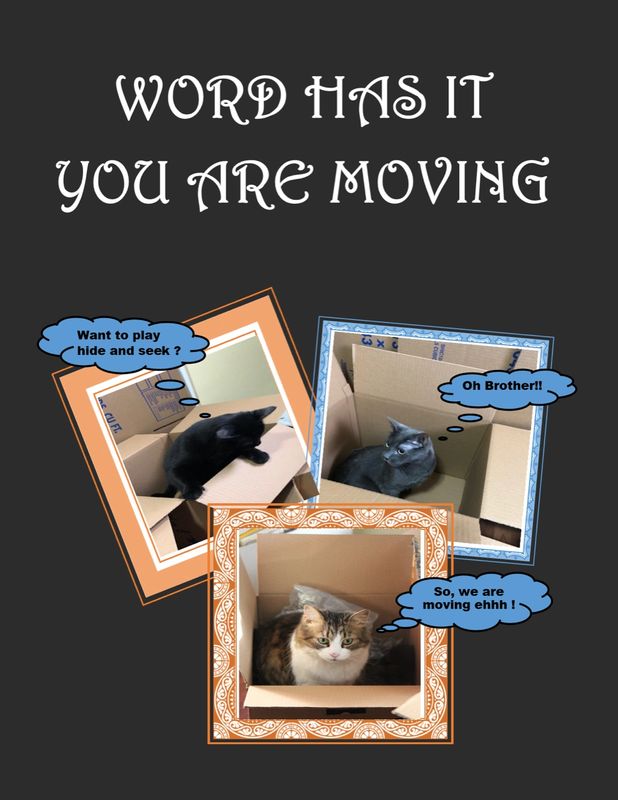 ---

Moving can be a very stressful event in an individual, or a family's life.
R & D Moving and Storage Supplies, aims to lessen your stress.
Here are some tricks and tips we've learned over the years to help things go smoothly.
Create a "Packing Central" space. This is where you will put all of your markers, packing tape, boxes, labels and anything else needed. Keeping all of this together will help you to stay organized and ensure you can always find what you need when you're in the middle of a packing frenzy.

Get more boxes than you think you'll need. This is an issue we have seen many people come across.. Always keep at least 5 boxes aside for last minute items you may need to pack on moving day. This will guarantee you don't have anything thrown into garbage bags and accidentally put out with the trash!

Be specific in labeling your boxes. "Files A-F" is better than "Files", "Cups and Mugs" is better than "Misc Kitchen". Write a list of everything that goes into each box and number the boxes in coordination with the lists. This will make unpacking and organizing in your new home or office much easier, and ensure you know where each box should go.

Seize the opportunity to purge! Moving can be a great time to do some spring cleaning. Throw a garage sale, donate unwanted or unused things to charity, or simply throw out things that no longer work. Unless you're a minimalist, we all tend to hold onto things we have no use for, just in case there comes a day we will want it. Be strong! Make piles, "Give away" "Throw away" and "Keep". Why bring all that clutter into your fresh new home? Take this chance to purge.

Transfer all utilities well in advance. There are many different utility companies all over the country. This can often make the decision time consuming. By starting the process well in advance, you will ensure that there is no delay in receiving heat or AC in your new home, and will ensure you have internet and TV services shortly after the move. Go online and find out the exact requirements for your utilities or internet service transfers as soon as you know your new address.

1.5 cu. ft. and 2.0 cu. ft.
These boxes, often called "book boxes" are used for heavy or dense items including books, DVDs, shoes, canned goods, kitchen canisters, small appliances, and hand or power tools.
3.0 cu. ft. and 4.0 cu. ft.
These are a general-purpose style of box that are great for toys, lampshades, pots and pans, kitchen utensils, etc.
5.0 cu. ft.  and 6.0 cu. Ft.
These boxes are designed for large, lightweight items such as pillows, bedding, and toys. These boxes should not be overloaded.
Wardrobe boxes
These boxes are equipped with a bar for hanging clothes, curtains, and draperies. The bottom is not designed to support weight, so make sure not to pack other items in the bottom of these cartons.
Mirror boxes
These boxes are telescoping, and come in both large and small sizes. These specialty boxes provide added protection for mirrors, large pictures, and glass tabletops.
Mattress bags
Designed to keep your mattress clean and protected, these specialty bags are available in twin, double, and queen and king sizes.
Here are some more general tips that will make the job easier:

·         Assemble all your packing materials before you start.

·         Tackle one room at a time. This will give you a sense of momentum as well as keep you organized

·         Place heavier items on the bottom, lighter ones on top.

Packing Tableware

Wrap each dish in either bubble or unprinted newsprint and place on end in the box. Make sure that each row is snug, so that the dishes will stand up straight. Use lots of padding.



Packing Crystal and Stemware

 Wrap the stem first, then the whole piece. If possible, use a protective material like bubble wrap or krubble. Place each item upside down in a divided carton and be sure to use lots of padding. Mark the box as "FRAGILE".

 

Packing silverware

Polish and wrap in plastic bags to prevent scratching and tarnishing. Alternately, polish and wrap in polyfoam.



Packing Books

Use small cartons because books tend to be heavy. Alternate rows—Bound edge to open edge.



Packing Records

Use small cartons and pack vertically in a box that has been padded on the top and bottom.



Packing a Record Player

Remove needle and tape down the arm and turntable. Pack alone in a box with lots of padding.



When Packing Lamps

Dismantle and label the parts, then place them in a bag. Put lamp and parts in the same box. Pad with throw cushions or newsprint paper. Lampshades can be stacked. Pack them in a separate box.



When Packing Small Appliances

Clean well so they are grease-free. Coil the cords and fasten to each appliance. Wrap and label any parts

 Packing Large Appliances

These must be empty, clean and dry. Label and pack any loose parts separately. Use protective tape on burners, shelves, knobs and doors. Tie down the power unit.



 Packing Rugs

If they have been cleaned, keep them rolled up.



Packing Slipcovers, Bedspreads &

Upholstered Items

Package smaller items in plastic bags. Cover larger ones with plastic or old sheets and fasten securely around the edges.



Moving Mattresses

Get a plastic mattress cover
King, Queen, Double, Single

Moving Garden Furniture & Barbecue

Clean, dismantle and pack individual parts in boxes. Propane tanks must be moved separately.



Moving Motors, Lawnmowers & Snowmobiles

Before the move, empty out any gasoline and clean well.



Packing Pictures, Mirrors, Radios and Clocks

Wrap small pieces in blankets. Large pictures and mirrors should be wrapped with protective pads and placed on end in Small or Large Mirror cartons

Packing Medicines

Be sure not to pack any medicine you may need during the move e.g.: Aspirin for headaches and rubbing ointment for sore muscles). Secure all caps and wrap each bottle in a plastic bag (unless the bottle is glass, in which case you should wrap it in polyfoam



Packing Kitchen Items

Keep cutlery in drawer divider and wrap in clean unprinted newsprint, wrap bottles and preserves individually in plastic bags then place upright in liquor cartons (If using a regular box, be sure to use lots of padding.



Packing Fixtures

All items attached to the floor, walls and ceilings such as drapes, blinds, and light fixtures must be dismantled and packed. Arrange beforehand to have the moving company do this.